Oil Painting Ideas – 20 Curated Video Tutorials & Demonstrations
We saw a huge increase in people taking up art during lockdown and in particular oil painting.  No doubt encouraged by the dulcet tones of the lockdown television sensation Bob Ross.  At first oil painting can seem a little daunting with the rules, fumes and clean up.  Mixing the right green or skin tone can be difficult despite the plethora of colours that are available! Fear not, we have curated a set of video tutorials for you. We have watched many hours of tutorials and this article contains the ones that we think are most helpful, we've split them into categories to help you quickly find what you are looking for – enjoy!
---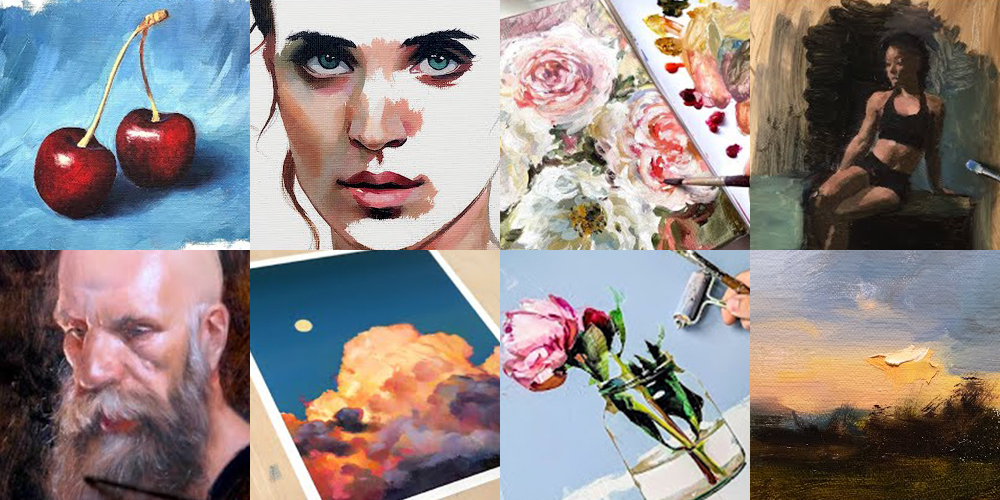 Colour is one of the key fundamental elements of painting. When mixing colors, it is important to consider the color wheel and the properties of each individual pigment to achieve the desired effect. To achieve a successful colour mix you need to get both the right hue and the right brightness value (how dark or light).
How to mix greens in oil paint – Paul Foxton
Mixing greens in oil paint can be achieved by combining different pigments such as yellow and blue. A vast range of greens, from cool, muted greens to warm, vibrant greens can be mixed. However, the exact shades and tones of green will depend on the specific pigments used and their relative ratios. This quick tutorial has some great tips on mixing greens using some surprising colours.
Materials Used
---
The Anders Zorn palette – Andrew Judd
The Zorn Palette is a limited palette of only four colours, named after the Swedish painter Anders Zorn. He used these colours to create a wide range of hues and shades, the colours in the palette are chosen for their versatility and ability to mix well with each other, and are often based on traditional oil painting colours. Traditionally the Zorn palette consisted of Yellow Ochre, Ivory Black, Vermilion and Flake White. In contemporary times, Titanium White is now substituted for Flake White which is now generally unavailable and some artists prefer to use Cadmium Red as a substitute for more expensive Vermilion.
Suggested Alternative for Materials Used
---
Demonstrating flesh tones using Michael Harding Series 1-3 oil colours – Vicki Norman
Materials Used
Michael Harding Artists Oil Paint – Titanium White 2, Yellow Ochre Deep, Scarlet Lake, Neutral Grey, Lemon Yellow, Brilliant Pink, Green Gold, Warm White (Lead white alternative), Warm Light Yellow, Venetian Red, Unbleached Titanium Dioxide, Naples Yellow, French Yellow Ochre, Italian Brown Ochre, Zinc White, Permanent Green Light, Transparent Brown Oxide, Ultramarine Blue.
---
How to Match Any Colour with Oil Paint – Draw Mix Paint
Matching colors in oil paint can be a challenging task, but there are a few techniques that can be used to achieve accurate color matches. This video shows a simple method for achieving any desired colour by using only 5 base colours and adjusting the value of the mix.
Suggested Alternative for Materials Used
---
Painting portraits or figures in oils can take a lot of time and practice to master. It's important to study the anatomy, and the way light interacts with the body, and to practice drawing and painting from life or from photographs. I had a long bus ride to art college and so I kept myself busy drawing my fellow travelers' portraits in my little sketchbook. It's important to take your time and to be patient with the painting process.
How to PAINT a PORTRAIT in OILS in ONE SITTING! Alla Prima Painting Techniques – Andrew Tischler
"Alla Prima" is a term used in oil painting to describe a painting technique in which the entire painting is completed in one sitting, without the need for multiple layers or touch-ups. The term "alla prima" is Italian for "at first" or "at the first attempt", and the technique is characterized by the use of wet-on-wet paint application, where each layer of paint is applied to the previous layer while it is still wet. This allows for the paint to blend and mix together, creating a more unified and harmonious painting.
The alla prima technique is more suitable for paintings that require a fast and spontaneous approach, such as landscapes, portraits, still lifes, etc. This video is a ten minute summary of a three hour portrait painting session. It starts by mapping out the big shapes and then adding more detail by adjusting tones to sculpt facial features.
Suggested Alternative for Materials Used
Michael Harding Artists Oil Paint – Magenta, Burnt Umber, Ultramarine Blue, Burnt Sienna, Titanium White, Warm Lead White Alternative, Transparent Oxide Yellow, Crimson Lake, Cobalt Teal, Cadmium Lemon Yellow, Phthalo Turquoise
Liquin Original
Linen Canvas
---
Portrait Painting Broken Down – Paint Coach
Painting a portrait from a photograph. Useful tips about understanding the anatomy of the face to achieve realistic results.
Materials Used
---
Oil Painting Tips The Mind of an Artist #4 – Alpay Efe
A more contemporary portrait is painted in this video and there are some useful tips on mixing skin tones.
Suggested Alternative for Materials Used
---
Figure Painting Tutorial Expressive & Simple – Yupari Artist
Tips on creating a figurative painting in oils. This tutorial starts with sketching the basic shapes and proportions of the figure, establishing the value structure, blocking in the colours and then refining and adding in details.
Materials Used
---
---
Oils are a highly versatile medium that allow for a wide range of techniques and effects, from delicate glazes to thick impasto. This makes them well-suited for capturing the nuanced colors and textures of a landscape. In this section I have included some tutorials to get you started with some quick oil sketches and more detailed paintings created in layers.
3 Fast landscapes & some oil painting tips – Stuart Davies
A great one for beginners in landscapes. Stuart creates three oil painting sketches so you can plan a composition for a bigger painting. Easy and quick!
---
Top Tips for Loose Painting
Not only does this real time demonstration take you through the process of painting this beautiful loose landscape, but artist Chelsea Lang also talks through her top tips on how to achieve this loose painting style in your art.
---
The one step that makes OIL PAINTING landscapes so much EASIER – Paint Coach
Learn why it is so important to start your paintings with a good foundation. Working out tonal values and blocking out colours before you start the main painting.
Materials Used
---
I've split this section out from landscapes as it's a subject that I am often asked about, Painting skies in oils can be done using a few different techniques, depending on the desired effect. This section includes how to paint a realistic blue sky, and also how to recreate different clouds. It's important to remember that skies are often changing, so you may need to make some adjustments as you paint, and to consider the overall composition and colors of the painting to make sure the sky fits with the overall scene.
Oil painting basics for beginners blue sky – Paint Coach
Materials Used
---
Painting clouds using dry brush technique – Janhendrik Dolsma
How to paint whispy white clouds easily without thinning your paint.
Materials Used
---
How I paint glowing clouds – Alpay Efe
Inspirational video demonstrating how colourful clouds are created.
Materials Used
---
How to paint a stormy cloudy sky in oil – Tim Gagnon
Materials Used
---
Oil paints are known for their ability to create rich, vibrant colors. This can be especially useful when painting flowers and other botanical subjects, as the colors can be quite striking and eye-catching. The slower drying time also allows the artist more time to work on the painting and make adjustments. This can be especially helpful when painting detailed botanical subjects, as it allows for more precision and control.
How To Floral Oil Painting Real Time Demo Water-Mixable Oil Paint – Katie Jobling
So you've painted some flowers but not sure how to turn it into a finished painting – this video will help you link your flowers together into a cohesive composition.
Materials Used
---
This is How I Make Paintings look MODERN & FRESH! – Alpay Efe
For those who may think floral paintings can look old fashioned. Watch this video to see how you can make your floral paintings look modern and fresh!
Materials Used
Painting Medium – Liquin Original
Winsor & Newton Artist's Oil Paint – Titanium White, Prussian Blue, Indigo, Ivory black, Yellow Ochre light, Cadmium Green Pale, Burnt Sienna, Cobalt Turquoise Light, Cadmium Orange, Quinacridone Red, Permanent Green.
---
Still life paintings are a type of art that depict inanimate objects, such as flowers, fruit, books, vases, and other household items, arranged in a specific composition. The objects are typically arranged on a table or other surface, and are often lit by a single light source to create a sense of depth and realism.
Still life painting can be done in various mediums, oil being one of the most popular as it is an opportunity to practice and improve painting skills. Honing techniques in rendering form, color, and composition and playing with lighting and shadows to create a sense of depth and realism.
Oil Painting Basics Tutorial For Beginners Realistic Cherries – Lenya Danya