10 New Year's Resolutions For Artists
Starting the new year by considering new ideas or putting together a good plan of work is a simple way to prepare for the success that you want.
Are you a new artist who is ready to start showing and selling works to art lovers? Do you want to step up your public profile on social media? Is it time to apply some good business practices to help your sales grow? Consider trying one or more of our list of 10 New Year's resolutions for artists.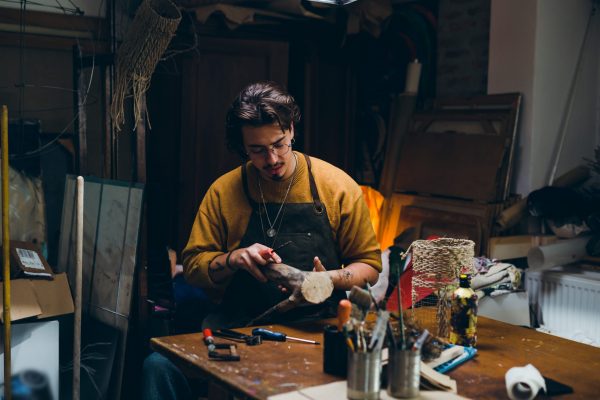 #1: Show off your work in a new and different way
Join an Open Studio
Start your search now to find out what open studio events will take place in your area in the coming year. If you've never participated, during an open studio, a group of artists invite the public into a studio workspace. It's a great way to explain your work to art lovers and maybe even make a sale.
Open studios are cheap, easy to organize and a great way to connect with other artists and the community. And if you're looking for other ways to team up with other artists, check out our guide to joining artist groups.
….or Organize Your Own Open Studio
Don't despair if there aren't any open studios in your area. You're an artist and a creative. So why not launch your very own?
These events are a great excuse to tidy up and turn your studio into a bona fide gallery — even if it began life as a garage or the corner of the dining room.
Invite artists in the surrounding area to take part. Plan for your open studio events to occur over several days.
Begin planning several months in advance to allow time for promotion and fund raising. Design a map (online or printed) which gives details of where to go.  Distribute flyers and yard signs, promote your event on social media. You can even create a website for your open studio event. (Artweb offers a free website plan, with easy templates to promote your events.)
Ask local galleries or other small businesses if they're interested in joining forces with you. Need snacks or drinks? A new catering service or wine store might be willing to offer samples at your event. It's great publicity for those involved and can help defray promotion costs. Add a fundraiser angle by raffling off a piece of art with the proceeds going to a local charity.
The autumn is a great time to hold an open studio as people return from summer vacation to a new school year and prepare for holiday buying mode.
Take part in open exhibitions
Open exhibitions are ground zero for artists without their own gallery.  Galleries looking for new talent or public institutions trying to raise money often host these open-to-all events. (These competitions usually come with a small entry fee). 
You can usually enter several pieces of work, so choose new work and remember it will need to be available for display and sale.  Event space is usually at a premium so keep in mind the size of the piece you exhibit. 
#2: Improve your social media presence
Who doesn't envy those rarefied artists who earn big followings (and profits) on social media?
You know social media could be a boon to your art business, but you struggle the find the time or expertise to gain real traction. Make this the year you spread your digital wings and commit to a real social media strategy.
Perhaps that means joining a new new social media platform this year? (Already on Instagram? Consider TikTok.)
Alternatively, invest more time in your existing platform where you're already seeing modest gains. Plan ahead — create a calendar of social media postings and stick to it. Post a photo of existing pieces on a regular basis. Create postings that are themed to annual events. Awareness days and national holidays are easy things to plan for. 
Need inspiration for your postings? Download our 2023 Social Media Calendar for Artists.
Creative and consistent postings and engagement with followers can help you boost your social media following.
Read more about how artists can promote themselves on social media.
#3: Create a video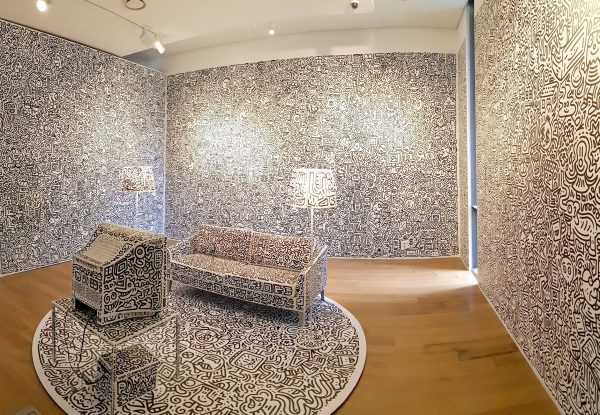 Ever heard of Mr. Doodle? The 28-year-old British graffiti artist sensation marries charming Keith Haring-style doodles with viral videos of him making his art. The result? Three million YouTube hits and art sales that near $1 million for a single work.
Whether it's Instagram, Tik Tok or YouTube, reels and short videos are an increasingly popular way for artists to display their work in an entertaining fashion.
Videography is more affordable than ever. With a camera phone and some cheap (or free) video editing software, you can make surprisingly professional videos. Do some research and watch videos from other artists, influencers and even major brands. Match the tone of the film to your art practice and medium.  
When possible, choose the best camera and equipment you can afford. DIY films have become increasingly polished, so a grainy Blair Witch Project approach might not work.
In terms of subject, there are lots of possibilities. Create a snappy film of you explaining a new work, a time-lapse of a work being completed, or even a short tour of your studio. 
Once you are comfortable, you can set up a YouTube channel for longer films and link them to your website. Your video content should be constantly evolving, with regular updates.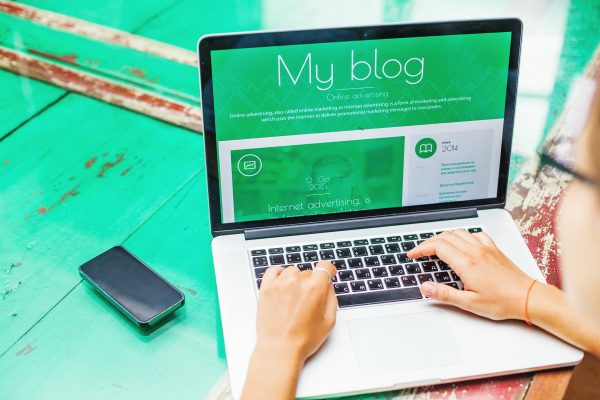 #4: Plan your blogs
If you want to blog, create a plan of what to cover and when.  Just remember that a great blog should be a great read. Include some fascinating facts, and discuss your inspirations and your thoughts on what's going on in the art world.
A few blog ideas
Theme your blogs around seasons, you could talk about the changes in light and landscape and its impact on your work.
A how-to guide: t sounds counter-intuitive but an artist offering a workshop talking about how to paint faces, will make a great read and make it clear you are accomplished and confident in your subject area. Create a short "how to" film.
Consider a podcast on your work.
Explore how an artist "lives" with a tour of your studio, again a great video blog.
#5: Create a portfolio
Galleries will plan their exhibitions at least a year ahead.  Put together a professional portfolio and visit local galleries.  Go online and look at the work they already show.  Find a gallery that matches your style of work but doesn't already have ten artists working in your exact style. Gallerists will want to see some of your original work, so include finished work, depending on size.  Make sure you have a resume that details your education, exhibitions, and any other information.
Remember most galleries also sell craft items, prints, and even greeting cards. Do some research and find out what they stock, so you're prepared to add to their shop collection.
What your portfolio should include:
Original works: These can be studies if your work is very large. The work should be recent.
Professional, high-quality photographs of your work: These should be large prints and feature details of the work on the back. Include your name, the name of the work, the medium, size and year of creation. You might want to include a price.
Your resume: It should include relevant education, exhibitions, prizes and commissions. You should also include any works displayed in noteworthy collections.
Contact information: Ensure a gallery can contact you after your visit, so include your details on everything.
#6: Refresh your photography
At least once a year, you should refresh the photos of your work.  Set yourself up with a blank wall, grab a tripod and DSLR camera and get snapping.  Find out more about taking (and faking) great art photography.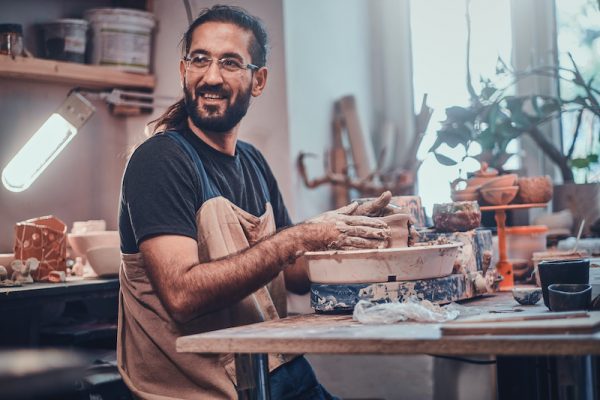 #7: Get ahead of the trends
It's easy to sit in the studio, paint, sculpt, make, and forget about the outside world. But just like fashion, art styles and mediums come and go.  Get out and see exhibitions, read about the latest trends, and blog your thoughts about what you see on the horizon. 
Where to find trends?
Magazines and digital blogs (like Artweb) are great at helping you to discover the latest trends. Some may be related to artwork – textile wall hangings, for example, are proving very popular today.
Big exhibitions or retrospectives of famous artists can help introduce trends. Monet can remind us of our love for landscape, or revisiting Reubens will help audiences rediscover the human figure.
Look at homes and interiors. Has Pantone just announced a new color shade that is similar to one of the colors you are grappling with on a canvas?  Mentioning these trends online, and adding a hashtag or two, will bring interested viewers.
#8: Learn new skills
Artists never stop learning, whether it's a spot of art history or how to work with watercolors.  What courses are running near you in the coming year?  It could be a short course looking at a new medium,  life drawing classes to brush up on your skills or even a practical courses to help you approach your art practice as a business.  There are also plenty of online short courses, which will allow you to learn at your own pace.  Be careful of getting lost in the mire of endless "how to" videos.
#9: Expand your brand
Synergy is all about creating different opportunities, and art is actually really well placed to do this.  If you paint, consider creating prints to sell. Perhaps your landscapes, flora, fauna and wildlife paintings, prints, photography and engravings will work as calendars for next year?  
Will small studies of your large sculptures work in limited editions or can abstract artists transfer their vibrant colours onto tea towels?  Think about where your work might translate, but make sure you are comfortable with reproducing work.
#10: Build a yearlong marketing plan and budget
Remember the old adage that if you fail to plan, you plan to fail? Strategic planning isn't just for executives. Even right-brain creatives can win big (and save time and stress) with a simple annual marketing plan. Set a few SMART goals (Simple, Measurable, Achievable, Realistic and Time-bound). Sometimes, starting small actually gives you the focus to achieve more in the long-run. (Looking for inspiration? Check out our guide to creating a holiday marketing plan.)
What goes in your plan?
Consider big events that happen every year and plan something around them.  If you paint landscapes, flora and fauna, your work might suit seasons.  If you specialize in craft, there may be big holidays to prepare for – jewelry-makers should already be planning for Valentine's Day, for example.  If you create garden sculpture, your business season is going to be spring when we all turn to our outdoor space and sigh.  You will need to give yourself at least a month or more to prepare content (and probably longer to create the work) so now is the time to think ahead.
How about a budget?
It's not the most exciting thing to spend your time on when you could be creating, but a financial plan will help make this the year for turning your arts and crafts hobby into a business.  A simple budget will do.  In the beginning, you might just include costs associated with raw materials and event or workspace compared to how many pieces of art you expect to sell (with difference being your profit). Knowing these figures will help you price your work.
Being organized will help you develop your art practice as a business and help with time management.  A plan should help you identify trends and plan ahead. For example, how much time and money will you need to build up your inventory ahead of a planned gallery event?
If this is your first planning year, think ahead to the end of the year and what you would consider a successful year (increased sales, an expanded inventory of work, etc.). Then simply work backwards and create milestones along the way.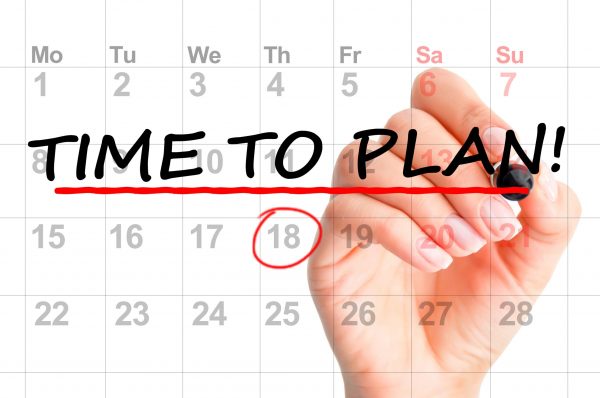 Share your thoughts
If you have any more to share with our readers, add them to the comments section below!