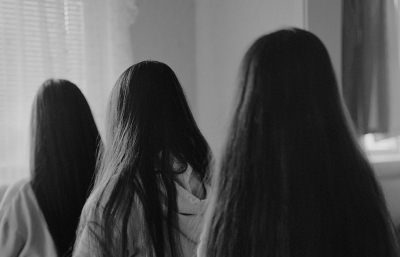 Juxtapoz Magazine – Farah Al Qasimi's "Poltergeist" Attempts to Photograph the Intangible
A close-up of a red-pink couch with various patterns. In the center of the picture a print, as if someone had just sat there or pressed their hand into it. A play between presence and absence. An uncanny and equally playful aura. Is it a banal everyday scenario or an attempt at contact from beyond? How do you photograph something that is intangible?
The exhibition of multidisciplinary media artist Farah Al Qasimi at C/O Berlin comprises photographs and video work. Influenced by the domestic-set horror films of the 1970s and 80s, she tracks the traces of a poltergeist creating mischief within a home. Objects move around of their own volition, spaces feel imbued with psychic energy, and the safety of one's own home is challenged by the tyranny of its objects. With humor and a light touch, the visual storyteller holds both worlds in balance, as well as the polarities of documentation and fiction, metaphor and the banal.
The artist moves through private spaces with her camera, documenting everyday situations and objects in interiors and pristine bathrooms, always displaying her specific aesthetic and her unmistakable eye for cultural details. In doing so, she strips her images of place-specific details – the photographs themselves are taken in a broad spectrum of locations, from Abu Dhabi, UAE to Detroit, Michigan.
Al Qasimi's unique style can be seen in the surrealism of her visual compositions and the delightful interplay between artificial pastel tones and textiles reminiscent of camouflage. She astutely observes our contemporary post-internet culture and foregrounds topics such as identity, feminism, consumption, and economic growth, as well as the politics and legacy of synthetic materials.
In Poltergeist, the artist juxtaposes earlier works with recent photographs, placing them in a new context. She creates a mysterious, uncanny atmosphere, while also inducing empathetic feeling for the strange ghostly creature.