Interview with Larissa Eremeeva: Diving into 'Evocative Abstract'
"I want my paintings to stimulate the viewer and to evoke feelings, memories, images, ideas to their conscious mind."
By Rise Art | 20 Feb 2023
Larissa Eremeeva has recently joined the platform, bringing her 'evocative abstract' works to the platform. Larissa is driven by feelings of transience and impermanence… mortality, eternity… generational threads that may bind or may break… how memories may be recalled and how memories may be erased. Whether these feelings and memories relate to those felt by the artist herself, is not important. What is important is that people who see her art may be stimulated to delve further and explore their own perceptions of the world and their own emotions.
How would you describe your artistic style?
I call my style of abstract expressionism "evocative abstract" – I want my paintings to stimulate the viewer and to evoke feelings, memories, images, ideas to their conscious mind. Whether those feelings and memories relate to those felt by me when I created the work is not important. What is important to me is that people who see my art may be stimulated to explore their own perceptions and emotions. The names I give my works also play a part in creating a curiosity for the viewer to delve further.
What messages or themes do you want to communicate with your work?
I draw on themes such as silence, the poetry of just being – inspired by poets such as Pessoa and Pasternak – and memories recalled. I think of my work as turning ideas into emotion, which is then expressed by the rhythms and textures in my paintings. There is an inherent contradiction in most of what I do, as there is in much art and in life itself.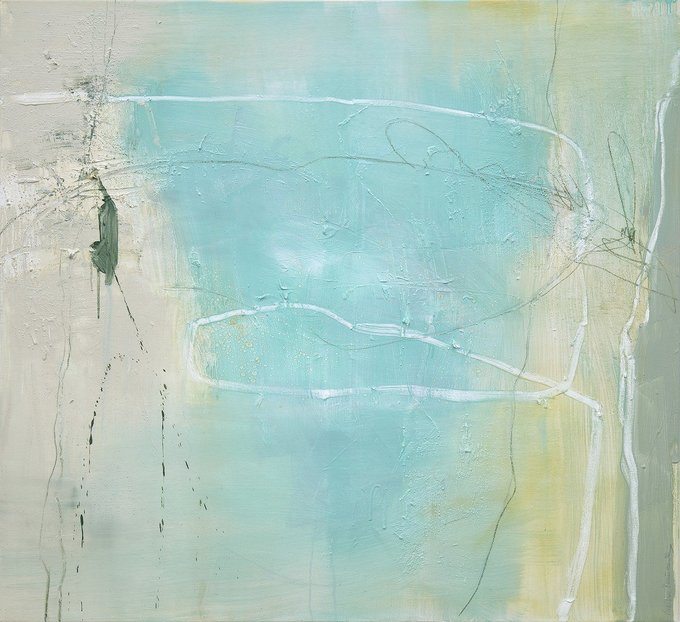 How has your practice evolved over the years? Have you always worked in an abstract style?
Until I moved to Italy from the USA, I painted figurative works. I used my art to satisfy my obsession with human behaviour – in particular our strengths and vulnerabilities as we go about our daily lives. My return to Europe, and events in my private life, drove me to turn my focus inwards – and "evocative abstract" resulted from that new focus on myself and my own emotions.
What's an average day like in your studio? 
I wake early, sometimes as early as 4am The day starts with coffee – 2 cups of cappuccino while I quietly shepherd the images and pin pricks in my head into a coherent plan of work for the day. Then I climb the stairs to my studio in what was once the grand drawing room of a palazzo here in Abruzzo. It's a tremendously inspiring place to work. I prepare the rough composition of any new piece on my Mac, mix my colours on my table top glass palette and… paint. Sometimes it's a new work, sometimes it's finalising and perfecting a work started the previous day or the previous week.
By 11am, it's usually time to stop and take stock – am I finished? do I need to revisit the piece another time? I create for around 4 hours each day; the rest of the day is for the more mundane but necessary tasks of running the studio. Very often art collectors are unaware of the time consumed in buying materials, photo shoots, liaising with galleries, preparing marketing materials, talking to collectors and so on.
What/Who are your key influences?
Marlene Dumas, Gerhard Richter, Peter Doig.
Who are some Rise Art artists with work you're enjoying at the moment?
Susannah Douglas, Dorota Jedrusik.
Are you currently working on any exciting new projects?
My current series is called "On the verge of waking up", which is a reference to Pessoa's The Book of Disquiet. As you can imagine, it's got a lot to do with the contradictions that can appear when we're in between the sleeping and waking state – or maybe it's even as Pessoa says, "I feel as if I'm always on the verge of waking up."